Building a Culture of Better Project Management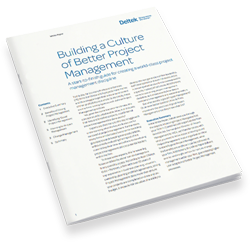 A start to finish guide for creating a world class project management discipline.
In this whitepaper, Deltek talk through the steps to improving project management at your Professional Services firm.
With expert advice from Bob Gilchrist, former Global Director of Project Management at HOK, you will learn how to achieve sound project management in your firm by identifying good project management and implementing the steps to get you there.
This whitepaper also provides end-to-end insight on how to nurture change management within your firm, guaranteeing higher user adoption of better project management processes.
Please complete the form below to download the whitepaper.
* All Fields Required