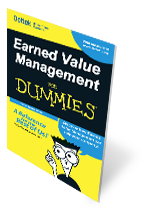 Understand how EVM can save your company money and time and ensure project success!
Presenting EVM for Dummies – Deltek Special Edition
Earned Value Management isn't just for corporations and government contractors. It's for all kinds of organizations that have projects to plan and need to deliver those projects on time and on budget.
EVM for Dummies was written to introduce Earned Value Management concepts to any project professional who is considering the implementation of EVM for the first time. Whether you're a seasoned project manager, a project controls professional, or an executive, this book will give you practical advice on making your EVM journey successful which will drive more successful projects for your organization.


By reading our book, you will:

Get to know EVM – EVM is a project management methodology, not an additional set of tasks
Understand EVM basics – EVM helps you measure project status, analyze variances, and avoid surprises
Learn how to use EVM – Take a look at a simple project through the eyes of EVM
Know the difference between EVM and EVMS – You will know the difference and understand how they are related
Understand why EVM and technology are a perfect fit –You will get to know what types of technology will help you manage projects more effectively
Manage projects better – EVM will give you an objective measurement of project scope, schedule and cost; will deliver early warning signals about potential delays and overruns; and will put you on the path to delivering projects for your customers, growing your competitive advantage