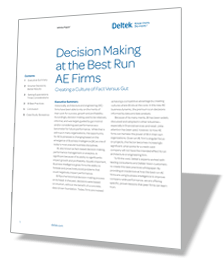 Decision Making at the Best Run AE Firms
Historically, architecture and engineering (AE) firms have been able to rely on the merits of their work for success, growth and profitability. Accordingly, decision making used to be relatively informal, and was largely guided by gut instinct and/or considering past performance as a barometer for future performance. While that is still true in many organizations, the opportunity for AE businesses is changing based on the emergence of Business Intelligence (BI) as one of today's most popular business disciplines. Research shows that decision making at the best run AE firms is both deliberate and methodical. This white paper shares those best practices, helping AE firms bring and/or accelerate the benefits of BI to their organizations.
All fields required.
Stay up-to-date on Vision by subscribing to the Deltek Vision blog.