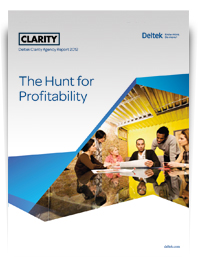 Clarity Agency Report: The Hunt for Profitability
A Comprehensive Study of Agency Performance.
Discover how your agency's performance compares to other agencies.
One of industry's only benchmarking tools for agency operations & performance, the 2012 Deltek Clarity Agency Report compiled findings from over 300 North American & European agencies of all types & sizes.
Despite the challenging recent economy, agencies report impressive productivity and an optimistic growth outlook. Yet findings also suggest agencies aren't as profitable as they could be - and have opportunities in areas like planning, revenue collection, and cost management.
Hear valuable insight to help your agency gain a competitive edge:
Market Outlook. How do agencies feel about the year ahead?
Planning & Business Development. How are agencies forecasting work? Capturing new business?
Managing Jobs. Who's responsible for job profitability? What will improve financial results?
Learn about the gaps & challenges that are common among most agencies - and see where your agency can find an advantage.
Get your free copy of the Clarity Agency Report today - please complete the form below!
* All Fields Required