On Demand Webinar:
The Secret Behind Deltek
Risk Workshops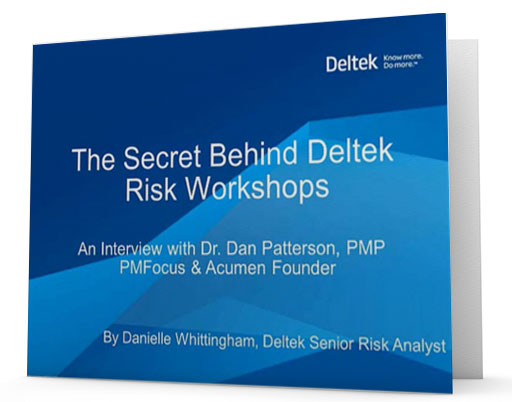 It's no secret that project managers who assess inevitable project risk, including the possibility of not meeting time and budget objectives, improve the probability of project success. However, a method for accurately evaluating and managing this risk with minimal team disruption and highly accurate results can be elusive.
Deltek has developed a method that helps to spotlight and solve problems, improve team communication and support project success. Based on decades of experience, this proven method has been implemented on projects totaling over $3 Billion and has seen a forecasting accuracy of within days of actual completion.
Deltek's risk workshops provide:
Expert facilitation: Our objective guidance and unmatched expertise focuses on clear communication and useful deliverables.
Minimal disruption: Capturing team input is important, but workshops that take weeks can cause more harm than good. A one-week turnaround with no more than two days' team participation keeps projects from grinding to a halt.
Team consensus: When a project team is satisfied that the schedule is realistic and achievable and the crutch of unpredictability is gone, teams become confident in their ability to perform on target.
Deliverables: The range and flexibility of deliverables from the risk workshop are the keys to success. Project teams are left with the reports along with a deep understanding of the project's weaknesses and opportunities for improvement.
Get insight into how Deltek achieves this success with a free on-demand webinar reviewing the process.