On Demand Webinar & Webinar Slides:
How to Profitably Win & Deliver Projects
featuring Forrester Research, Inc.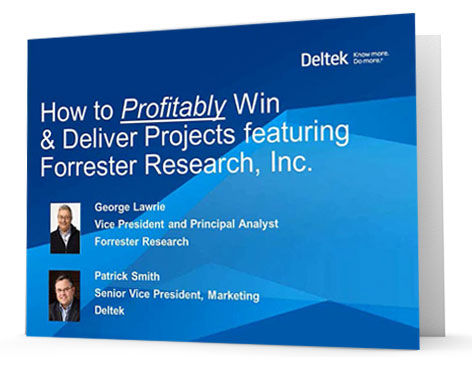 Are there key areas in your project lifecycle that are draining your resources and preventing timely delivery and growth in your firm? You're not alone! According to a recent study from Forrester Consulting* A Guide to Profitably Winning and Delivering Projects for Project-Based Businesses, your surveyed industry peers identify their top project life cycle stumbling blocks, like poorly qualified project opportunities, issues hiring and retaining the right resources, and complacency in improving the project execution and billing cycle.
Download the free webinar and to hear the results from a commissioned study conducted by Forrester Consulting on behalf of Deltek that asked 170 surveyed project firm leaders to better understand the top concerns about managing each stage of the project life cycle.
Highlights include:
Average project win rate for firms pursuing opportunities
Challenges project firms face in winning and executing project profitably
Expected challenges from new regulations and new competition
Key recommendations.