White Paper:
Gaining Project Certainty
through Team Consensus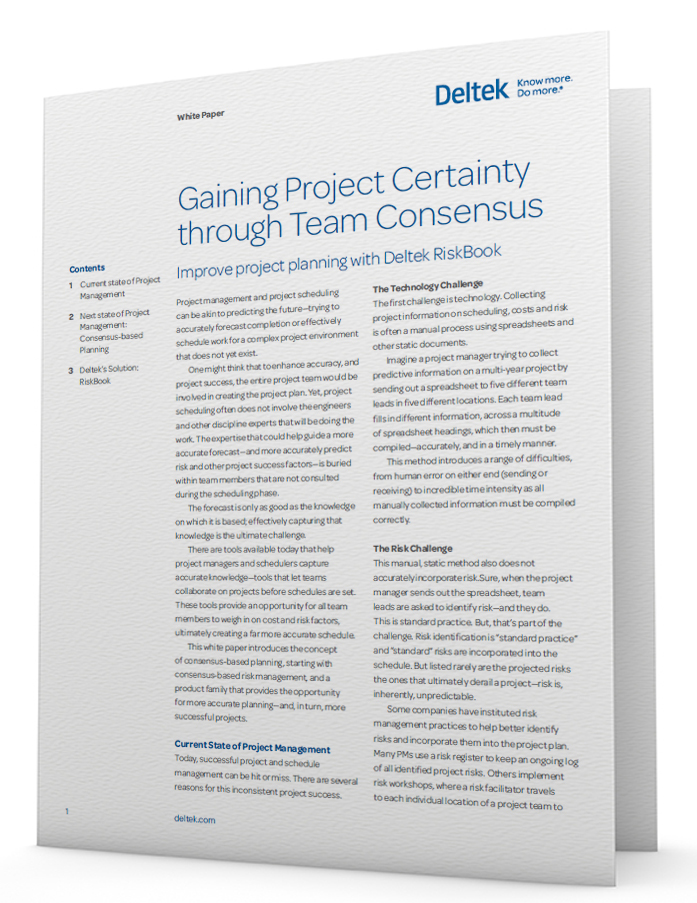 Compiling an accurate picture of project risk is a bit like herding cats especially if your catherding tools are a static spreadsheet and a telephone. Accurate forecasting starts with getting accurate input on threats and opportunities (risks) from the team, but are you truly getting the information you need from the hands-on engineers? What about the schedulers, stakeholders and work package leaders?
The solution is collaboration — creating a project plan through inputs from all the key players on your team. The free white paper Getting Project Certainty through Team Consensus explores a new consensus-based, maximum accuracy approach to schedule and cost forecasting, starting with obtaining a team consensus on risk inputs with Deltek RiskBook.
Learn how your team can:
Remove team geographical constraints with cloud-based participation
Collaborate in real time on risks and mitigation strategies
View a consensus-based severity score for each project risk
Get a top-down view across projects on high-risk threats.