On Demand Webinar:
Why Schedule Quality Matters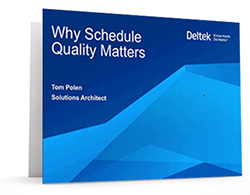 The key to a successful project will always be a sound schedule. Improve your evaluation process with the nine schedule checks every business needs to boost quality and soundness.
Based on the proven Fuse Schedule Index™, these checks evaluate use of logic, constraints, float, and more to provide a clear and concise picture of how well you've worked the plan.
You'll spend less than an hour…
Learning the nine key checks for ensuring a sound basis of schedule
Exploring the correlation between a high quality schedule and successful project completion
Seeing how the free Schedule Index Calculator™ scores your schedule helping you prioritize areas to improve