FACT SHEET:
Meet Government Compliance
Standards with Deltek Acumen Fuse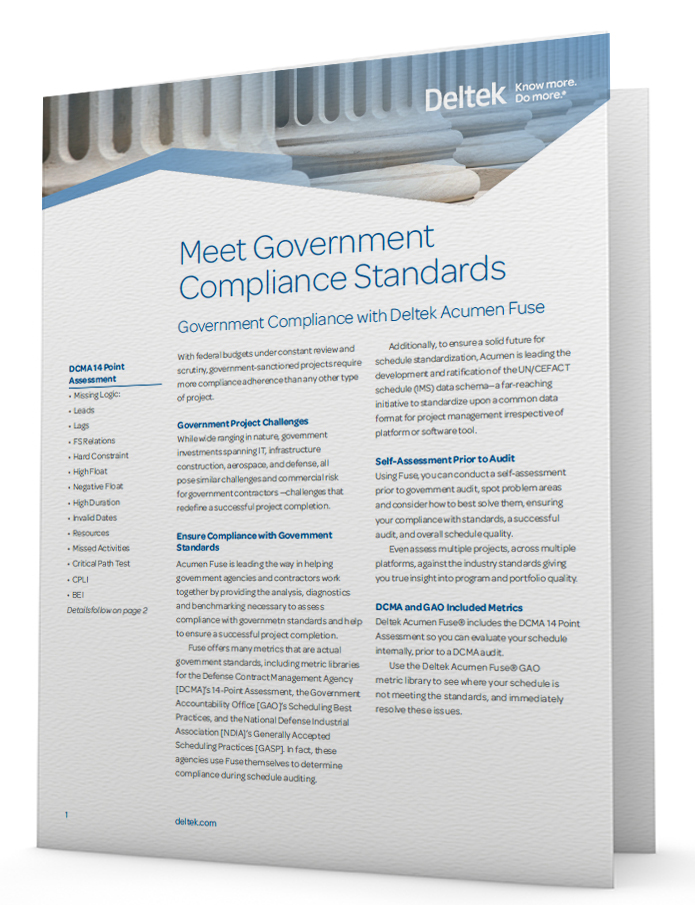 With federal budgets under constant review and scrutiny, government-sanctioned projects are subject to more stringent compliance requirements than any other type of project. These projects, spanning everything from infrastructure construction to aerospace and defense, require meticulous tracking and strict adherence to mandated guidelines. Deltek Acumen's software products are the solutions for projects under scrutiny, helping simplify processes for federal agencies and contractors alike, and ensuring that every project and portfolio meets planning and process requirements to remain on track for a successful execution time and again.
The Deltek Acumen software suite provides the confidence and assurance needed to navigate federal project requirements and helps to improve program health and performance. With the unique insights, reliable reports and ease-of-use provided, government agencies and contractors alike are able to painlessly track compliance with industry regulations, evaluate and articulate key performance measures such as earned value, and seamlessly mitigate potential threats to project completion.
Download the fact sheet to learn more.