White Paper:
How Traditional Risk Reporting
Has Let Us Down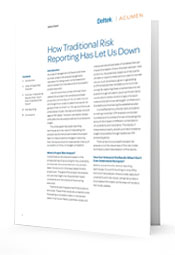 Is your risk analysis and risk reporting part of project success? Unfortunately, as project management software tools have evolved so have the challenges of understanding the inputs, the confusion of conducting the risk analysis, and the lack of insight when viewing the final reports. It's no wonder that project risk analysis has gained a reputation for being complicated and impractical.
However, the alternative to conducting risk analysis is a deterministic, likely unrealistic schedule. The free white paper How Traditional Risk Reporting Has Let Us Down discusses risk reporting techniques and ways of interpreting risk analysis results that actually enable the project team to make proactive changes in reducing their risk exposure and puts everyone on track for project success.
Don't Miss:
Exploring the background of cost and schedule risk analysis
Understanding and ensuring accurate risk analysis inputs
Interpreting risk reports for meaningful project insight